The 3rd Infographic in FSN's newly released research shows that 99% of finance functions have already decided where they are going to be working from for the foreseeable future.
And with 62% expecting a combination of home working and working in the office, that has profound implications for core finance processes.
The key question is, can highly collaborative processes such as planning, budgeting & forecasting or financial reporting operate effectively in a hybrid environment.
How will it work in practice?
Join the debate here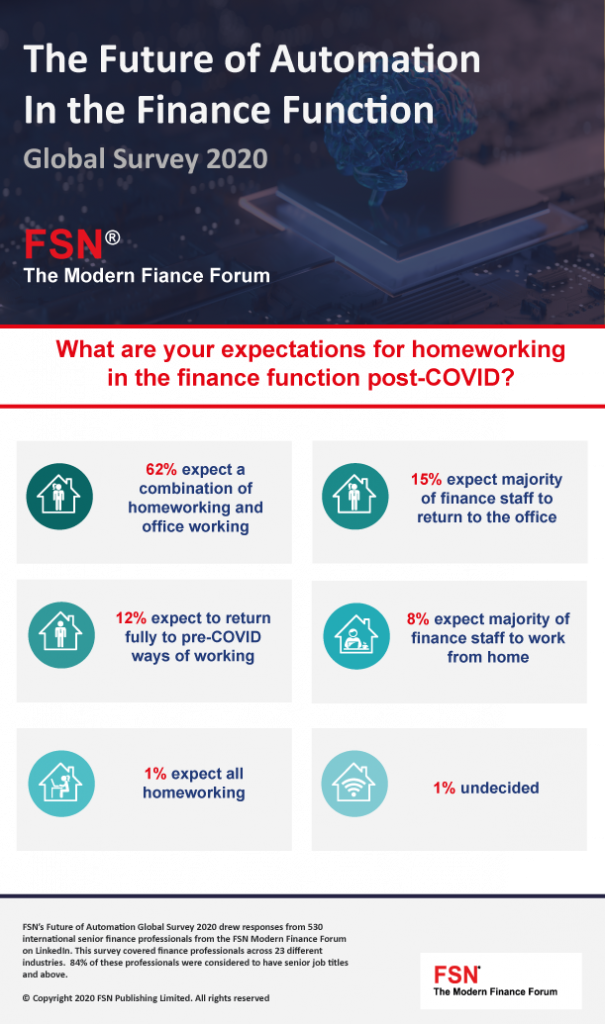 Other infographics in the Future of Automation in the Finance Function Research series:
WHAT WAS THE MOST DISRUPTED FINANCIAL PROCESS DURING COVID?
COVID HAS CAUSED PROJECT DELAYS – BUT IT'S ALSO AN OPPORTUNITY!
IS THE FINANCE FUNCTION GOING TO BE WORKING AT HOME OR IN THE OFFICE?
WHY ARE HALF OF FINANCE AUTOMATION PROJECTS FAILING?
WHAT ARE THE CHARACTERISTICS OF AUTOMATION LEADERS?