The 5th Infographic in FSN's newly released research shows how successful automation leaders approach finance process automation compared to those CFOs that have not succeeded in bring about significant change.
Why is this important? Because FSN's research shows that in almost all respects, automation leaders were less affected by COVID disruption and are more agile in response to 'ordinary' levels business change.
So the key question is how can you become an automation leader and take advantage of change? Join the debate here.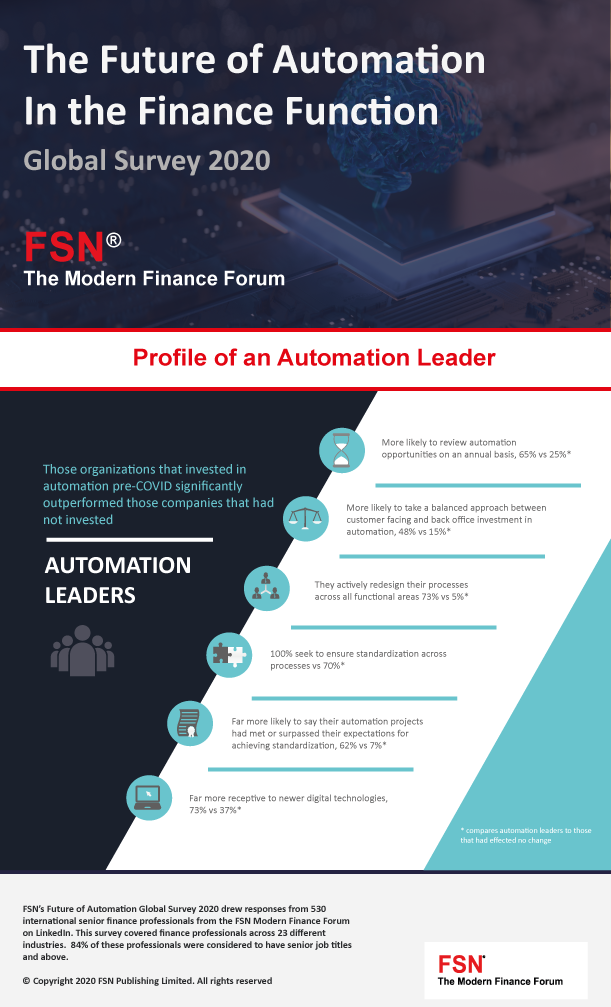 With thanks to the sponsors of this unique research, *Anaplan*; *BlackLine*; *BOARD Software* and *CCH Tagetik*
Other infographics in the Future of Automation in the Finance Function Research series:
WHAT WAS THE MOST DISRUPTED FINANCIAL PROCESS DURING COVID?
COVID HAS CAUSED PROJECT DELAYS – BUT IT'S ALSO AN OPPORTUNITY!
IS THE FINANCE FUNCTION GOING TO BE WORKING AT HOME OR IN THE OFFICE?
WHY ARE HALF OF FINANCE AUTOMATION PROJECTS FAILING?